GenCon Indy 2007
2007 was my second visit to GenCon, following the prior year. Again, I was drawn there primarily by agreeing to handle the Indie RPG Awards. This was also a chance to check out the largest gaming convention, well, anywhere as far as I know.
This year, I ran two games and attended many others -- as well as hosting the Indie RPG Awards Ceremony on Friday.
---
"Welcome, Freshman"
Game system:

HERO System / Champions

Start time:

THU, 8:00am

Category:

RPG

Duration:

4 Hours

Event ID:

RPG00561

Location:

Union Station

Max Players:

8

GM / Judge:

Sylvia Rudy

Description:

Something odd's been going on at the University of Hellenbeck. Paranormality seems to be going around. Is it the result of an experiment by a nefarious secret organization, or just the cafeteria's eggplant parmesan? This makes the 'Freshman 15' pale in comparison. Role playing stressed.
This was my first game, a HERO System game. I had found out just before the convention that the GM was also a poster on The IRIS Network, a feminist gaming forum. We were picking from 16 or so pre-generated characters who had stats, skills, and rough description. However, most details including age and gender were left out, including just a brief sketch of major and interests. I had arrived late, becuase the event location was printed wrong in the program book, so I was a bit behind in picking. Looking through who was left, I was intrigued by an unusual character who was described as majoring in Home Economics while also described as a jock with martial arts skills. So I picked that one. All of the players were male, and they all chose to play male characters, so for mine I played a female. I picked a super-butch basketball jock who was doing Home Ec as a way to pass.
The scenario was a fairly straightforward one of hapless college students, similar to one that I've run called "Extra Credit" but considerably more tongue-in-cheek. The PCs were all signed up for Underwater Basket Weaving 101, and they get involved in a fight between Amazing Dude and NastyMan.
I can't say that the whole really grabbed me, but it's hard to expect a lot of people on an 8AM Thursday event. Some of the players were low in energy, and most were new to the HERO System. Roleplaying was stressed, but this was still strongly featured phase-by-phase superheroic combat.
---
"Bill & Ted's Heinous Mission"
Game system:

Paranoia XP

Start time:

THU, 2:00pm

Category:

RPG

Duration:

4 Hours

Event ID:

RPG01585

Location:

Hyatt: Cosmopolitan C

Max Players:

8

GM / Judge:

John Kim

Description:

Welcome to Sector DMS (pronounced "dee-mess")! Here young clones go through their final training to be new workers and troubleshooters in Alpha Complex. But the glorious Computer has seen fit to entrust you youngsters with a vital mission: capture two mysterious strangers and save the timeline of Alpha Complex.
This was an old Paranoia scenario of mine from the early nineties, mildly revised after each of the half-dozen runs that I've done of it. I had earlier updated it to the XP edition of Paranoia. For this one, I added two pregenerated characters and tightened up the plot a bit to have fewer extraneous elements.
In posting the game, I had said 8 players maximum -- mostly because I had said in last year's tabletop games to have 6 players maximum and got only 4 and 3 despite being sold out. However, this time I had 8 sign-ups and all 8 showed. It mostly turned out fine, marred mainly by the fact that we were assigned into a relatively small room with six other games, such that one had to nearly shout to be heard just across the table. About an hour in, we picked up and left to an open gaming table outside which was much nicer.
The players were all a blast: Mary Nir, David Nir, John Card II, J. Duncan, Graham Harper & guest, Jeffery Moore, and Alexander Newman. Two women and six men, all roughly 20s to 40s. This is classic Paranoia -- a pushy plot with some very forced sequences, but with a lot of space for player creativity in how to backstab each other and get each other killed. This one features a lot of references to old time travel movies, including but not limited to Bill & Ted.
---
Fastlane Pick-up Game
| | | | |
| --- | --- | --- | --- |
| Game system: | Fastlane | Start time: | THU, ~9:00pm |
| Category: | RPG | Duration: | ~2.5 Hours |
| Event ID: | none | Location: | Embassy Suites |
| Number of Players: | 5 | GM / Judge: | Alexander Cherry |
This was a pick-up game of Fastlane, game-mastered by the author, Alexander Cherry. The game is made distinctive by its use of a roulette wheel for resolution -- and true to the game, Alexander had a miniature roulette wheel, colored chips for each player, and a felt fold-out board for placing our bets.
We collectively agreed on the Old West as a setting, and then focused in on a riverboat casino where a gambling contest was taking place. We decided it would be set just after the Civil War, but before Lincoln was assassinated -- since J.W. Booth was an NPC in our story. We were all unclear on our history here, and that actually was only a period of about a week (from April 9 to April 15, 1865). We had five players:
Brian Masbet created Col. Nathan Delevier, a former Southern officer still bitter about the war.
Alexander Newman created Dolores De Vine, a prostitute working on the riverboat and hoping for her ticket out of this life.
Chris Weeks created Injun Pete, a half-breed Indian who worked as a guard on the boat.
I created Tom Howard, an idealistic lawyer (played by Jimmy Stewart) who was desperately trying to recover the money for his political campaign that he had lost.
Sam Zitlen created Charles William Scofpossum, the owner and proprieter of the riverboat.
The action went well. I took a couple of moderately risky bets and cleaned up pretty well on chips. Resolution is moderately slow, as it depends on deciding on bets and a roll of the wheel. It eventually ended in disaster for most of the people, as our riverboat ran aground on a sandbar and then was sunk to cover a robbery.
---
Indie RPG Awards Ceremony
This was the main thing that drew me to GenCon, since I am administering the Indie RPG Awards. Last year I had simply presented the awards ad-hoc on the Exhibitor floor, but this year I posted the awards ceremony as a seminar event. I went around some Thursday and Friday going to the exhibitors and mentioning the awards. I had emailed all the winners (and two runners-up) that they had gotten some recognition. There were only a few of the authors present, but luckily all three of the authors of the Game of the Year were present and got to talk about their game.
I was relieved at how smoothly things went. Afterwards I went for drinks with Ken Hite and Vincent Baker, and we chatted about stuff.
---
The Weaver's Daughters Pick-up Game
| | | | |
| --- | --- | --- | --- |
| Game system: | The Weaver's Daughters | Start time: | FRI, ~10:00pm |
| Category: | RPG | Duration: | ~2 Hours |
| Event ID: | none | Location: | Embassy Suites |
| Number of Players: | 3 | GM / Judge: | John Kim |
This was a playtest of Jessica Hammer's Game Chef entry, "The Weaver's Daughters". It's a narrative game about the descendents of the Norns in 1792. However, it turns out that mostly we were just investigating mechanics. We had three players but only around an hour and a half. With no pregenerated characters or pre-defined setting or situation, we didn't get through much. The game defines the year as 1792, but doesn't suggest a location or setup. With those major caveats, here are my thoughts:
Everyone was drawn by the use of the runestones. I had both a set of cut-out cards with the named rune on it, and a nicer set of more genuine runestones.
The visions were difficult to get to work.
---
Capes Pick-up Game
| | | | |
| --- | --- | --- | --- |
| Game system: | Capes | Start time: | SAT, ~10:30am |
| Category: | RPG | Duration: | ~1.5 Hours |
| Event ID: | none | Location: | Hyatt : Games on Demand |
| Max Players: | 4 | GM / Judge: | none |
This was a pick-up game of the superhero game Capes that I played with the author Tony Lower-Basch (as the villain Dynamo), Rich Forrest (as Samson - son of Uncle Sam), Rob (as Rasta Man - Carribean Gadgeteer), and Benjamin Terry (as Bamfy - Charming Teleporter). We went back and forth a couple times since we didn't have much intersecting comics experience, and eventually went for something along the lines of superhero television cartoon -- light and dramatic. Most of the PCs were a wandering superhero team that were analogous to a rock band, touring different parts of the country in a super bus. I was playing a subtle villain for this piece -- a parallel to a recording studio agent with magical powers, whose name was something like "The Promoter". Tony played the more obvious villain, who created a building-sized bomb in the center of town and threatened to blow it up if his demands weren't met.
After creating characters, we played for around an hour. Tony put out one goal: "Harm innocent bystanders" while I put out another one as "The heroes need my help". The players of superheroes were mostly against the first, but some even helped out with the second. We went around I think three times before the situation was resolved, and we called it there.
---
"Introduction to Maid RPG"
Game system:

Maid RPG (translated)

Start time:

SAT, 12:00pm

Category:

RPG

Duration:

2 Hours

Event ID:

RPG01412

Location:

Hyatt: Cosmopolitan A

Max Players:

6

GM / Judge:

Ewen Cluney

Description:

Experience one of Japan's stranger tabletop RPGs! (In English) Take on the role of a maid at the Master's mansion, and make sure he's pleased with your work. That's the easy part; all the maids are maladjusted in some way ("Special Qualities") and the mansion is regularly embroiled in chaos ("Random Events").
This was a tongue-in-cheek two-hour run of a Japanese tabletop RPG, called simply the "Maid RPG". It is a humorous RPG where you all play young maids working in a large household, apparently drawing on a fetishistic genre anime along these lines. There were 8 players, all male, and one player had been hoping to join in when I showed up.
Everyone had come to the table expecting an extremely silly result, but I think the players were particularly creative and the GM was rather taken aback by our outlandish characters.
We created characters according to the system, which was almost entirely random-roll. We went around the table telling the GM our roll and him telling us which options we got. For example, I got the Types "Pure" and "Heroine"; the Special Qualities "Sickly" and "Patchwork" and "Cat Ears"; the Weapon "Katana"; the background Root of "Infiltrator"; the Stress Explosion result of "Gambling"; and the Maid Power of "Windows of the Soul". I had picked up a character sheet from the player who had been waiting for a slot, and he had assigned the name "Yusi Bagadumplings" and sketched a picture of a cheerful and chubby cartoon woman. The full set of characters were:
(someone) played Shoko
Mark Geary playing Michiko
Greg Rogers playing Mijo, a younger sort
John Nicholas II playing Tracy, a middle-aged pregnant maid who spoke in a gravelly smoker's voice and didn't take shit from anyone
I played Yushi Bagadumplings, the completely brainless but big-hearted infiltrator
James Noel played Dr. Santa Barbra, a hilarious character drawn as a mustached man who spoke in a high-pitched feminine voice
Ramsey Lundock played Shiroko, the most fetishized one who was constantly trying to submissively seduce our teenage boy master
The cartoon pictures helped enormously with the style and humor of the game. The traits were all randomly generated, and the GM Ewen commented that somehow miraculously none of the seven players managed to get the "Sexy" trait on either of their rolls (a 1 in 6 chance). For me, it was John and James' hilarious improvisation that really made the game -- though I think I added to that. We frequently bought random events at odd times, which were sometimes minor things like "The master catches a cold" and sometimes major things like "Someone tries to assassinate the master". The GM Ewen said that this was the craziest that he had ever seen the game, and seemed taken aback at the how we went at everything. Eventually it wrapped up in properly momentous climax where the house was destroyed and aliens came down.
---
"Stagecoach"
Game system:

Parlor LARP

Start time:

SAT, 4:00pm

Category:

LRP

Duration:

4 Hours

Event ID:

LRP00111

Location:

Crowne Plaza

Max Players:

10

GM / Judge:

John Kim

Description:

The Coronado is a high-speed armed transport, owned by the Companion's Guild and operated by Captain Frances Granger to protect their interests in the outer worlds. But in a time of crisis from Reaver attacks, she has agreed to take on priority passengers bound for Persephone. But all is not as it seems. An event heavy on role-playing, with intrigue and tension. Fancy Old West or Chinese themed clothing suggested but not required.
This was a small larp that I had written using the Parlor LARP rules, set in the Firefly/Serenity universe and taking inspiration from the 1954 film "Stagecoach". There were ten PCs, in contrast to the usual eight PCs of the original Parlor LARP series. Half of these were based on a previous Firefly/Serenity tabletop game that I had done, except I made the larp characters all gender-neutral. Three characters were Companions (or Companions-in-training), which had always appeared as women on the show. However, there was nothing to prevent them being men.
I had a full sign-up, and 8 of the 10 preregistered people showed up, plus one walk-in with generic tickets. For this game, I departed from my usual approach and I assigned people characters rather than letting them pick. I asked people for their preferences in terms of the three Parlor LARP categories: Goal-oriented vs. Emotion-oriented; Dark vs. Light; and Simple vs. Complex. I asked everyone what they would prefer -- then asked a few more questions to distinguish between them. I was particularly concerned about casting the secret villain of the piece. Only about half the players got exactly their stated preference, but the others were only one category off with one exception. Here's the group: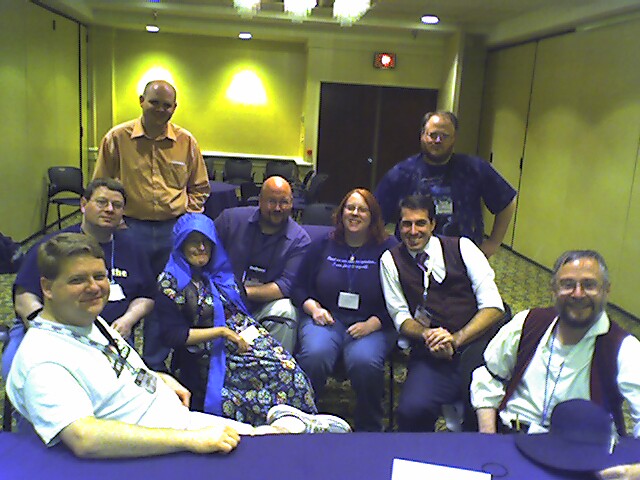 There were 2 women and 7 men. Three of them had roughly appropriate dress, but it only vaguely fit their characters. Avoiding any description of the plot, I think the game had a somewhat slow start but ended up doing fine. We wrapped up in under 5 hours, but everyone was quite satisfied.
Jay - requested GLS, cast as the Captain (GDS)
Christa - requested GLC, cast as Journeyman Shepis (GLC)
Gregory Nagler - requested any, cast as Corporal Hatfield (ELC)
Amanda Elsner - requested EDC, cast as the student McLaury (EDC)
Bill Weidner - requested GLC, cast as the gambler Holloway (ELS)
Scott Cole - requested any, cast as Major Sanchez (GDC)
Grant Davis - requested ELC, cast as Doctor Collins (EDC)
Josh Geurink - requested GDC, cast as prisoner Lau (GLC)
Chris Toomey - requested GDS, cast as the engineer Chang (GLS)
---
"Cthulhu Scouts of America"
Game system:

Call of Cthulhu (Home LARP Rules)

Start time:

SAT, 9:00pm

Category:

LRP

Duration:

4 Hours

Event ID:

LRP00086

Location:

Omni Hotel: Purdue/Notre Dame

Max Players:

20

GM / Judge:

Anne Blaeske (of Fantasy Aspirations)

Description:

It was a beautiful day in the neighborhood when Scoutmaster Rogers suggested that Boy Scout Troop 551 camp in the historic Marston Manor, a gorgeous old manor on top of the hill. Its not like Boy Scouts have an interest in moldy crown molding or corny cornices, but the old house is a great place to explore and tell ghost stories. After all, what danger could really be lurking in an old manor home where the previous owners have met their untimely, and violent, ends? "Bobby, Bobby? Is that you behind the door?"
This was a large larp with a little over 20 players and 3 organizers, though there were some bottlenecks because not everyone organizing felt qualified to answer certain questions or resolve actions. It was a typical haunted house setup -- a troop of boyscouts were staying overnight in an old abandoned house with a reputation for being haunted.
I took the last character in picking, and ended up with John Madden the football captain who didn't take scouting seriously. At 16, he was the second-oldest kid in the troop, and was one of three older kids who were taking charge of the littler kids. There were nine 10-to-12-year-olds in the troop, and so I ended up with three kids -- including one trouble-seeking twin split up from his brother. I played him as a tough guy with a good heart, who was convinced of the supernatural halfway through but clueless about what to do about it.
---
"Black and White Ball"
This was just a big dance event that went from 9PM to 1AM or so in the Union Station building. It had a DJ playing various rock and a few hip-hop songs. The event description encouraged goth costuming, but the actual dress was highly mixed -- a few costumes from different events, I think, but few people dressed specifically for the ball. It was very informal and about to my tastes at the time.
Afterwards, I had a drink at a private bar that had been set up in the space below. They required a password to get in, but an industry acquaintance of mine gave it to me.
---
Conclusion
In general, I had a very good Saturday, but the other days of the con were onlyi medium. I think nervousness over the awards made it more difficult on Thursday and Friday.
I was even more disappointed in the event organization this year than last year. The event locations were frequently wrong -- wrong both on the tickets, and often with a different wrong location in the program. In addition, the tabletop events were again frequently packed in very close to each other, such that you could barely hear. I remain convinced that I should just call whatever game I run a LARP simply to get a nice open space with no one else around.
This time I deliberately skipped two events that I had a ticket for to deal with other stuff. One event that I did show up to was cancelled because we only had 3 out of 10 players for a LARP that needed at least 6. Many events were less than full despite people looking for games. The event preregistration happened online very quickly -- within a few days of events being open. Since people chose quickly months prior to the convention, it doesn't surprise me that often their plans might change.
I did several of the games on demand approach -- one officially at the games-on-demand space in the Hyatt during the day, and three at the Embassy Suites at night. However, I don't particularly like the format. There were no time slots, and people had different schedules. There was technically a board where people would post notes on, but it didn't seem to get used much. It was hard to get people to commit to more than an hour, slow to gather people together, and the organizer or GM sometimes wasn't very well prepared. In principle, it seems much better to have a scheduled slot and event where people can run. For example, Go Play Northwest didn't have any predefined events, but it had defined time slots and a big whiteboard where people posted events and signed up for them.
It was nice meeting people, but I am ambivalent about GenCon as a convention at this point. For me, there are closer, smaller conventions that are better organized, more responsive, and much cheaper to attend.
---
John H. Kim <jhkim-at-darkshire-dot-net> Last modified: Thu Aug 24 13:24:37 2007