These are my notes and thoughts on the Buffy the Vampire Slayer role-playing game by C.J. Carrella, published by Eden Studios in 2002. Obviously this is based on the Twentieth Century Fox television series, but it is also a starting point for all sorts of role-playing which may or may not look much like the original series.
My Essays and Ideas

My collection of essays on Buffy roleplaying:
Review of the Buffy core rulebook -- great ideas, but poor organization
What makes Buffy Buffy? -- thoughts on creating a series
House Rule Ideas -- some playtested, some not
Spell Balance Issues -- thoughts on potential balance problems & fixes for the core magic system
Classic Horror Movies -- a list with comments on how they might be or have been used for Buffy episodes
Buffy Episode Guide -- a concise list with links for plot summaries and full transcripts
Buffy Spells by Season -- a list of nearly all spells used in the series
Experience Spending Examples -- how the canon characters grew by season
Buffy Adventure Design -- concrete guidelines for preparing episodes

This is my page of play aids, including two one-page summary sheets, a list of spells from the series, and notes on balancing magic.
My collections of links for Buffy-based roleplaying and for the Buffy/Angel series in general.

These are links and my own pages for a Buffy campaign I am playing in, GMed by Bill Humphries.
This is my notes on a hypothetical series concept, which I put together as part of my evaluation of the game. It is a more light-hearted series, where a "good girl" Slayer from the 50's finds herself in 2000's Santa Cruz in an unusual body.
This is my notes on another series concept. This is an idea for a game which I had prior to the BtVS RPG, but sort of fits as a distantly related series along the same lines. Rather than high school, it's theme is a 20- and 30-something shared housing. A group of unusual people share a home, which is an interdimensional nexus: the Winchester Mystery House in San Jose, California.
---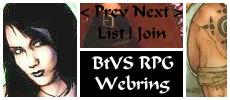 ---
<<BUFFY THE VAMPIRE SLAYER ©2002 Twentieth Century Fox Film Corporation. All Rights Reserved. The Buffy the Vampire Slayer trademark is used without express permission from Fox.>>

John H. Kim <jhkim-at-darkshire-dot-net> Last modified: Fri Feb 10 14:27:13 2006