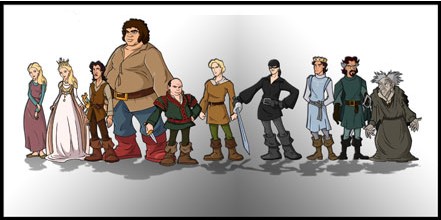 A Hero's Welcome
On the run from the King's navy, pirate captain Barnabas planned a quick raid on an out-of-the-way town to gather much-needed supplies. What he didn't expect was to be greeted with joy and cries of praise. What exactly is going on here?
This is a comedic fantasy larp, in the spirit of The Princess Bride with nods to The Prisoner of Zenda and Hail the Conquering Hero. There is real intrigue and adventure, but also outrageous talents and improbable plot contrivances. The content will be suitable for both adults and teens.
Characters (Public Info)
Pirates
Captain Barnabas - a loud and domineering pirate captain
First Mate Smee - the scheming first mate
Angel Meroe - an extraordinarily tough rogue born to the pirate life
Cabin Boy Sam Sparrow - sneaky young foundling raised by Barnabas and Smee
"Baby-eater" O'Brian - an infamously fearsome pirate with a secret
Black-Eyed Pete - the unlucky pirate who always breaks things
Townspeople
Mayor Hurley - the pompous town mayor
Constable Casey - the panicky local constable of the town
Terry the Sheep Herder - a wealthy sheep owner and wheeler-dealer
Morgan the Merchant - impulsive gossip who always knows what's going on
Sal the Shopkeep - a friendly and bustling shopkeep, always has the right thing
Doc Peyton - the learned and respectable town veterinarian with a dark secret
Inspector General's Team
Inspector Cameron - the King's Inspector General
Assistant Avery - aide to Inspector Cameron with a vital secret
Captain Jayden - the famous pirate-fighting hero
Ash - guardsman assigned to Captain Jayden
Rules
Standard larp rules for the local tradition should apply, possibly including willingness the conventions for "cut" and "break" to adjust play, and/or the American "no touching" convention. The following are rules specific to this larp:
No Killing: This is a light comedy, so every player is responsible for finding reasons not to kill any other player characters. You may knock someone out, but they will come around after roughly two minutes. You may wound, but wounds should be superficial, not bloody or gory.
Talents Take Precedence: Each character has one thing that they are good at above all else. Any time such a talent is invoked, it overwhelms any other consideration.
Otherwise, Flip A Coin: Except for the one thing they are good at, all characters are on an even footing. The outcome of any physical contest should be decided by the flip of a coin.
Organizer Information
Character Sheets (a single web page, formatted for printing two characters to a page)
Talent Cards (papers slips to show others your talent)
---
John H. Kim <jhkim-at-darkshire-dot-net> Last modified: Sun Sep 18 22:01:30 2011