The Redwood Realms
This was a outdoor fantasy larp that I hurriedly threw together for a friend's 13th birthday party in the summer of 2009. My requests from the birthday girl were as follows:
bandits and heroines and kidnapping
renaissance sort of costumes
almost all 7th graders but possibly some range on the ages (downwards)
lots of combat
in the woods somewhere
E. and her friend have made swords already for everyone (foam ones)
In addition, from later logistics, I knew we had to get done with dinner, the game, and cake in about two and a half hours.
---
The Location
We chose Edgewood Park in Redwood City as a balance of ease of getting to and facilities while still having a feeling of being in nature. We picked the area by campground #2 specifically (cf. Google Maps). Liz made an excellent in-character map of the area: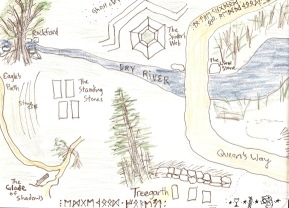 ---
The System
The birthday girl brought
---
Cast of Characters
Below is the list of characters, divided into their three in-character groups. I was originally expecting 10 to 12. In the end, there were only 6 seventh-graders with the main parts, plus 2 adults and 3 younger kids (ages 10, 9, and 6) playing who had less central roles. I'm not including myself, as I was acting mainly as organizer, observer, and referee. We were missing one seventh-grader who had to cancel at the last minute. The gender balance was 5 girls and 1 boy among the older kids; 2 girls and 1 boy among the younger; and 1 man and 2 woman of the adults. There were also E's parents and grandparents present but not playing. I had originally made characters for them but they opted out. Characters not played below are marked with strikeout.
The Royals
The Druids
The Bandits
---
John H. Kim <jhkim-at-darkshire-dot-net> Last modified: Sun Jul 1 12:30:30 2012