Knutpunkt 2006 Report
Here's my pictures from Knutpunkt 2006. See also Boris' pictures of Knutpunkt 2006 and you can see some of the locations in Tobias Wrigstad's Location Scouting Photoset on flickr.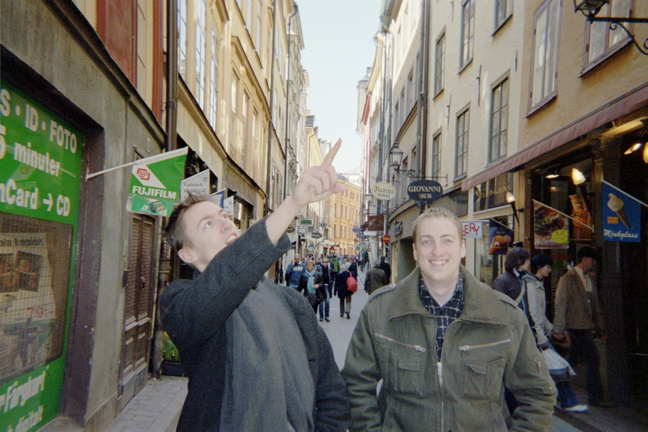 So unfortunately, I didn't get in on any larping during the days in Sweden prior to the convention. So instead I just hung out with fellow gamers and looked around. There were a bunch of Danes at my hostel. So the first day I went sightseeing with Jannick Raunow and Ryan Hansen (pictured here).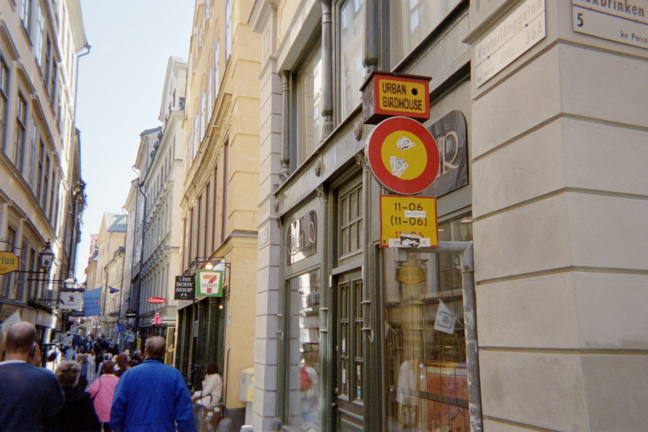 An urban birdhouse in Stockholms old town (Gamla Stan).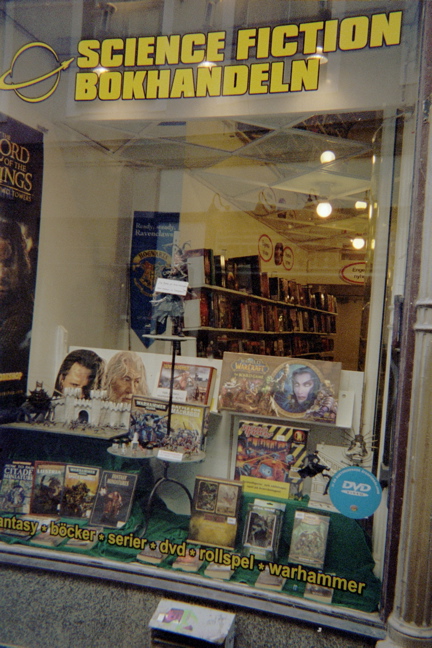 Purely by chance, we ran across a science fiction bookstore in Stockholm's touristy old town, and they had a sizeable RPG section. Two of the six bookshelves were D&D/D20 material, one was Swedish-language RPGs, and the rest were various other English RPGs. The Swedish was mostly Drakar och Demoner along with Western and Mutant. I was interested to note they had one copy of Burning Wheel there (the combined set of core rules and Character Burner).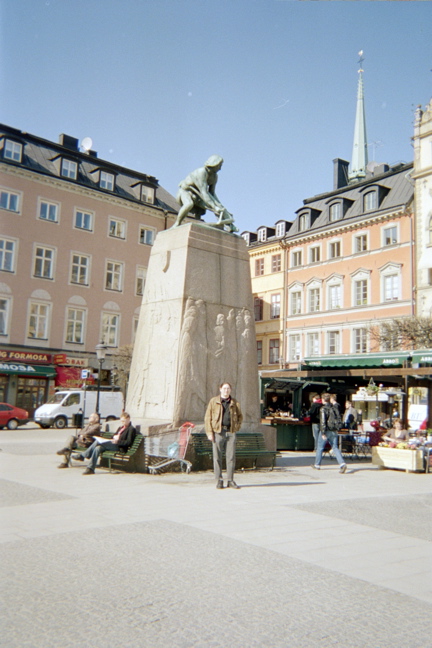 Me wandering Gamla Stan, currently in front of a statue of a soldier reloading a crossbow.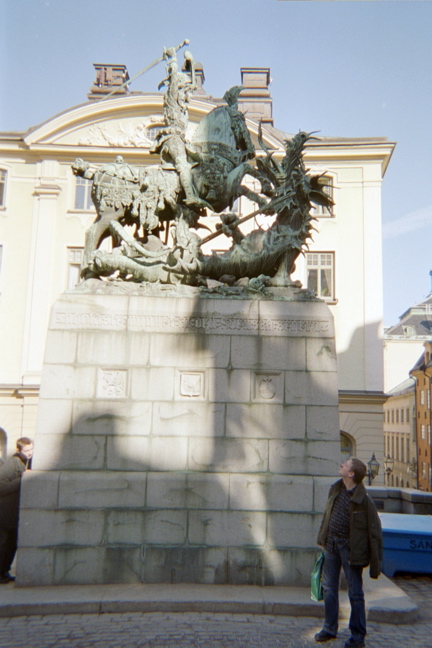 Here's Ryan in front of a statue of a knight slaying a dragon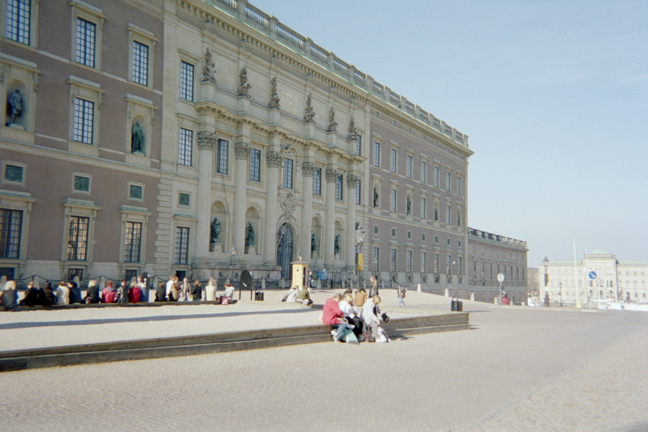 The Swedish royal palace.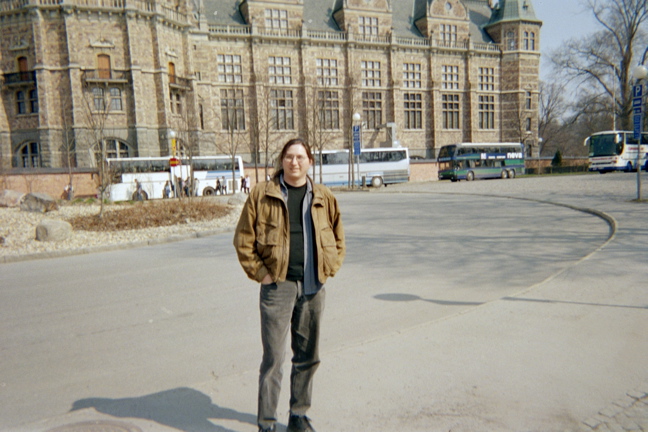 Me in front of an old building beside the Warship Vasa museum.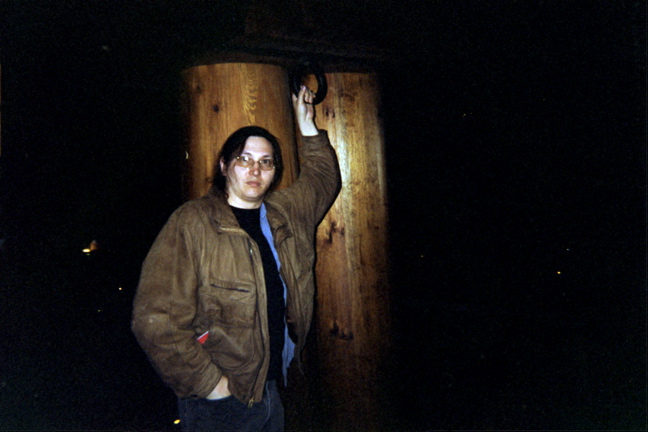 Me in the Vasa museum. This was a real treat, but unfortunately it's too dark and large to get a good shot of the ship itself.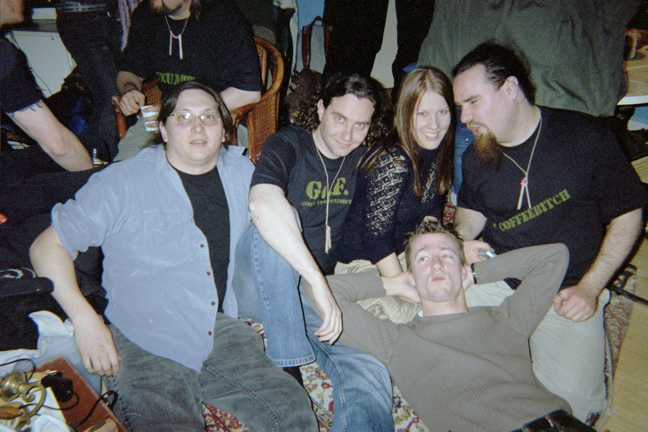 Me at Elge Larsson's mixed-drink party, along with Frank Bethmann, Hannamari Saarenpää, Jannick Raunow, and another German whose name I forgot.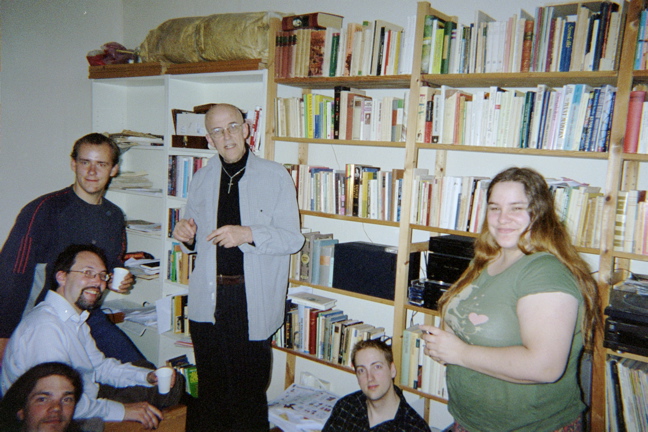 The host, Elge, is the older man in the middle. On the left, top to bottom, is Danni Rune, Mikael (the priest from Church of Sweden whose name I again messed up), and Morten Tellefsen. On the bottom is Ryan Hansen, and Britta Bergersen on the right.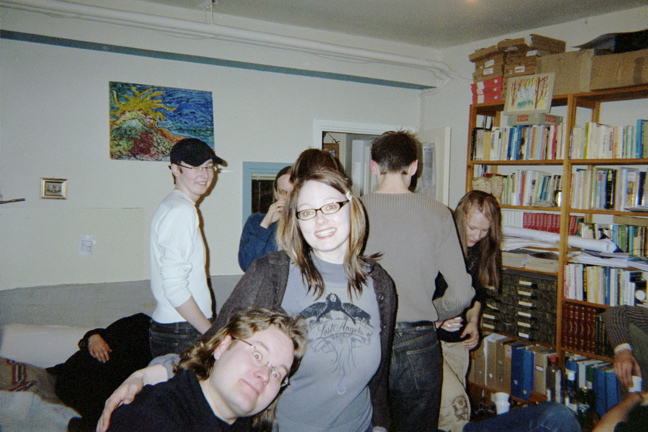 At Elge's party, Satu Heliö poses alongside someone whose name I forgot (who is clearly stunned insensible by her charms).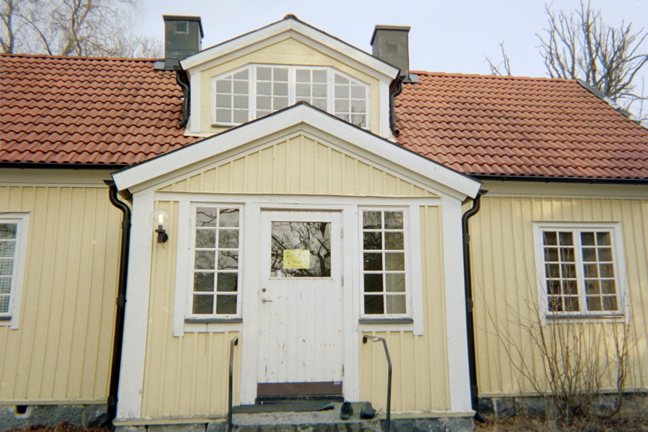 At the site of Knutpunkt itself, this is the front of the cabin where I was staying. The location was basically a children's summer camp, organized as a group of cabins around some sports fields. It was isolated but reasonably comfortable. Anna-Karin Linder volunteered to handle the theme of our cabin, which was "The Church". (see below)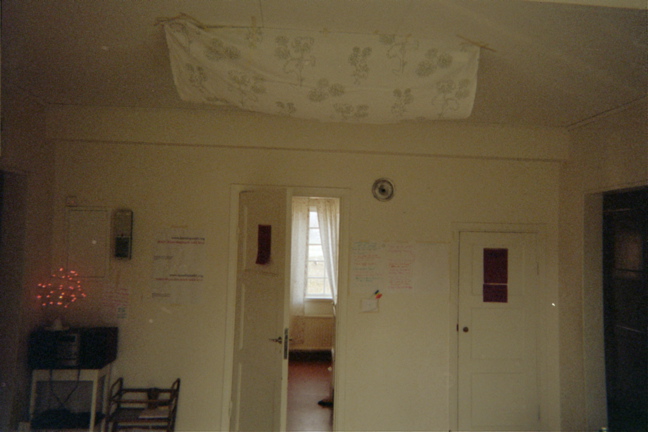 The interior of the cabin as we decorated it.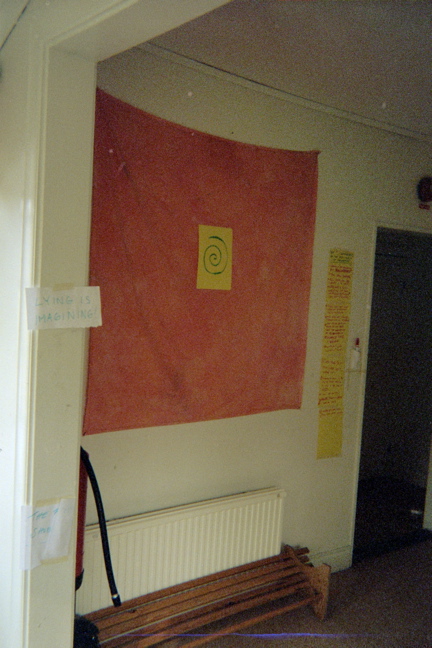 We chose the spiral as our holy symbol. The sign on the left says "Lying is Imagining".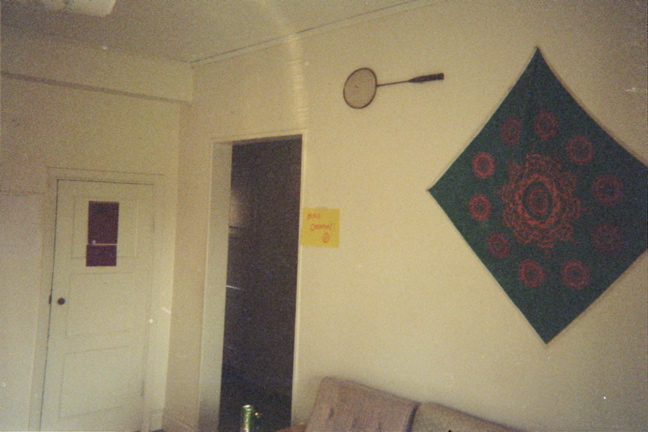 I believe that say "Bless Creation"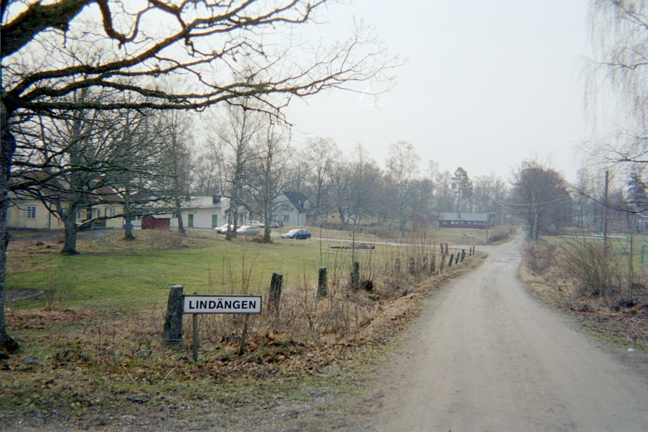 Outside of the cabin, you can see the rest of the camp.

A small map of the place, included on cards given to us.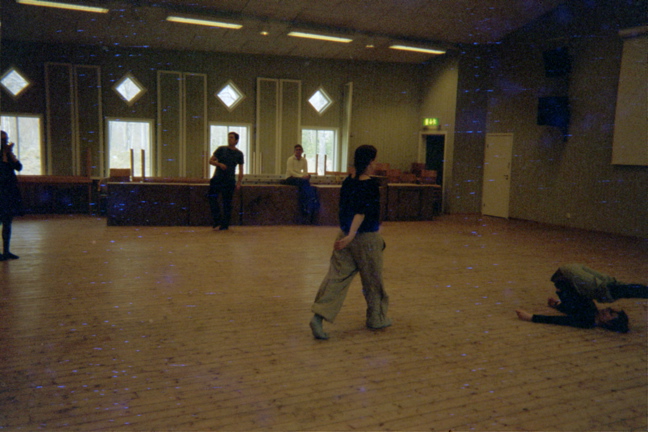 This is preparing for a workshop organized by Anna-Karin Linder on "Your Body -- A Forgotten Tool". It seemed like dance exercises cast towards loosening up and expanding the range of motion which we use to express ourselves in larp.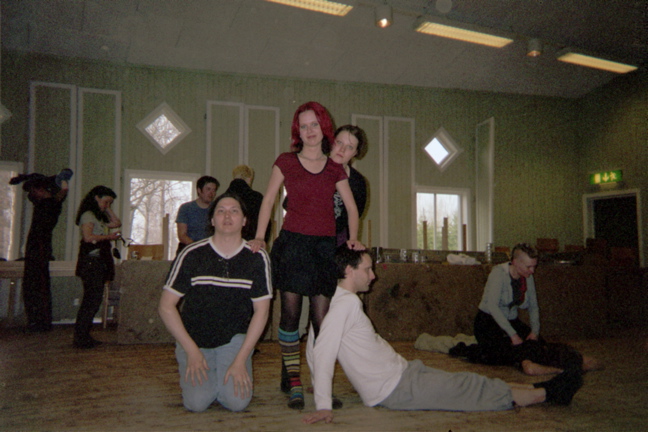 Workshop participants. Me on the left. Stina Almered is the girl with pink hair, with Tova Gerge behind her. And that is Martin.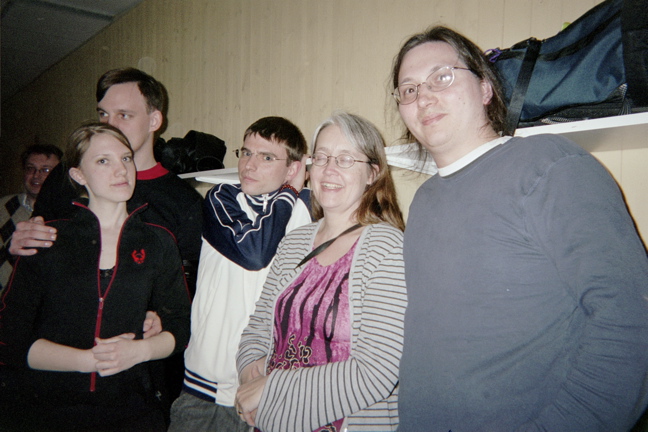 Urk. More people. The woman beside me is Annika Waern, an academic studying games. She's a senior researcher in the Interaction Laboratory at the Swedish Institute of Computer Science. On the left is Pernilla (who was also in the body workshop), with her boyfriend Staffan Jonsson. Between is someone whose name I forgot (?).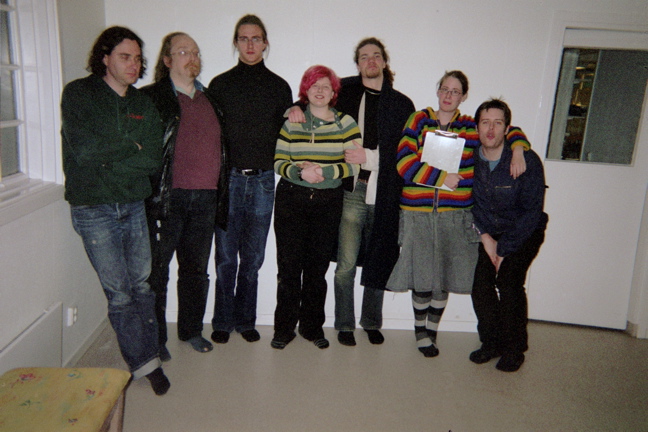 Well, everyone here is looking a bit silly. This is the gang who played the Parlor Larp "Snow White" (by J Li). I directed. From left to right, that's Frank (as the Prince's lieutenant Armin), Johan Jonsson (as loyal captain Sevros), Elias Helfer (as advisor Naresh), Martine Svanevik (as Snow White), Morten Tellefsen (as the Prince), Sofia Nordin (as the Queen), and Kristoffer Lindh (as the dwarf Kione).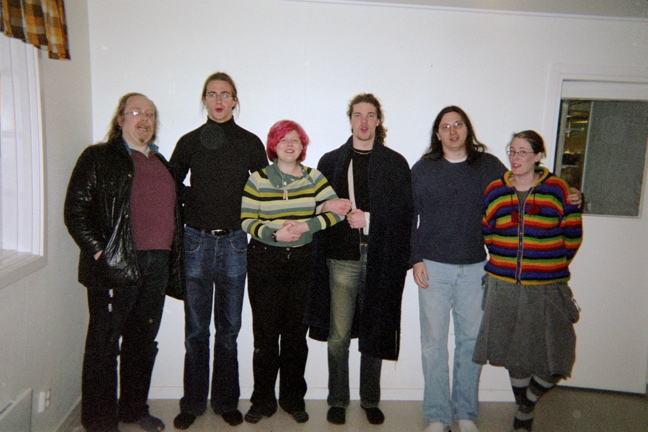 The gang again with me in the picture.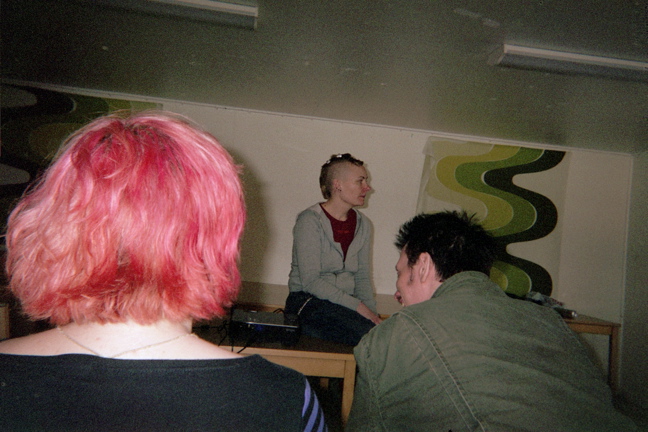 This is Emma Wieslander, giving her talk on "Roles, Identity, and Personal Myth" -- which was excellent.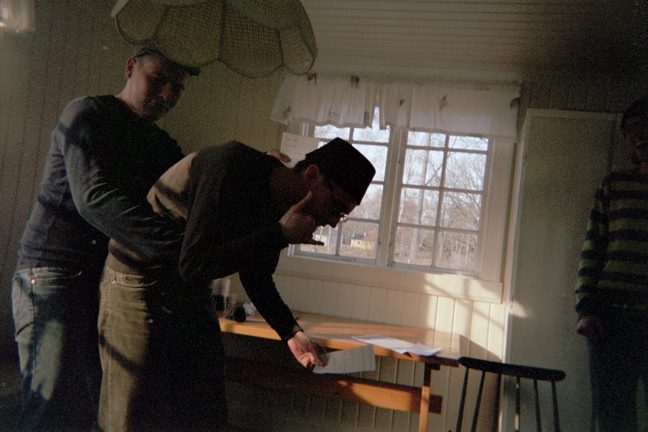 I have caught photographic evidence of Olle Jonsson being humped from behind while pretending to be a telepathic bird in its dream about humans having phone sex. This is the wierdest game concept I've ever seen, and things got very silly soon. But it did push limits.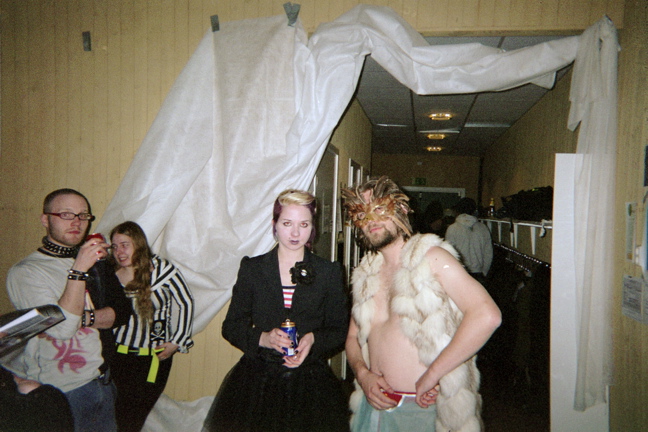 International man of mystery Claus Raasted in his debonair masque at the dress-up party (along with a few others whose names I forgot).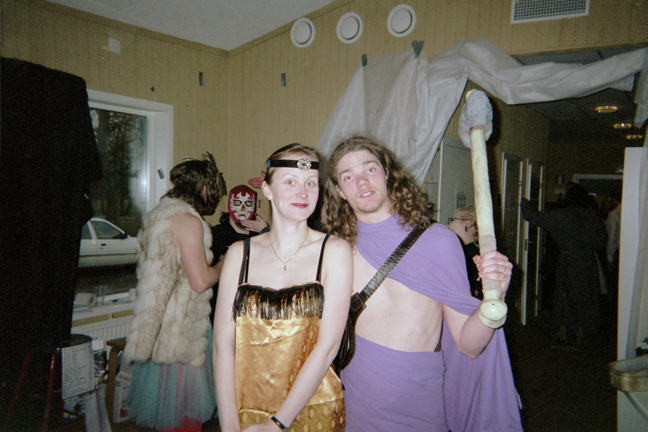 More costumed attendees: Morten Tellefsen again with Niki Bergman.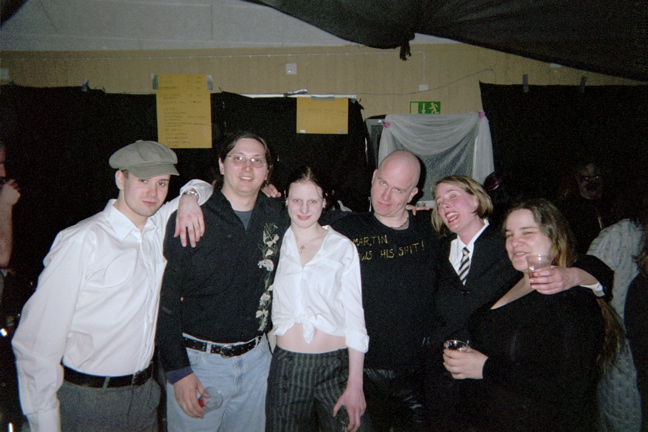 Here's me with less costumed folks at the party. From left to right, there's David Olsson, me, Kristi, Martin Brodén, Sofia Nordin, and Britta Bergersen.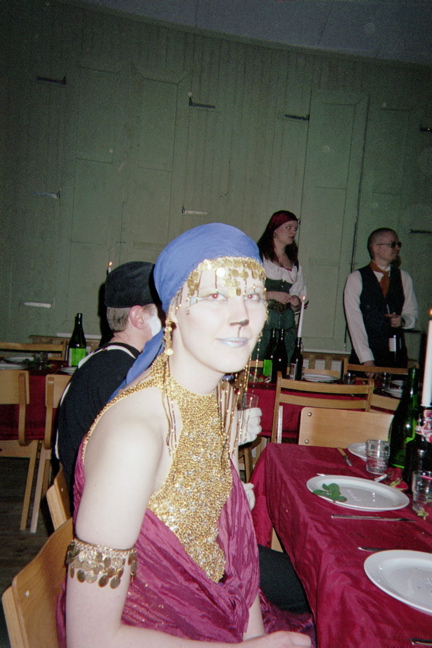 Tova Gerge in her exotic getup for the costume party.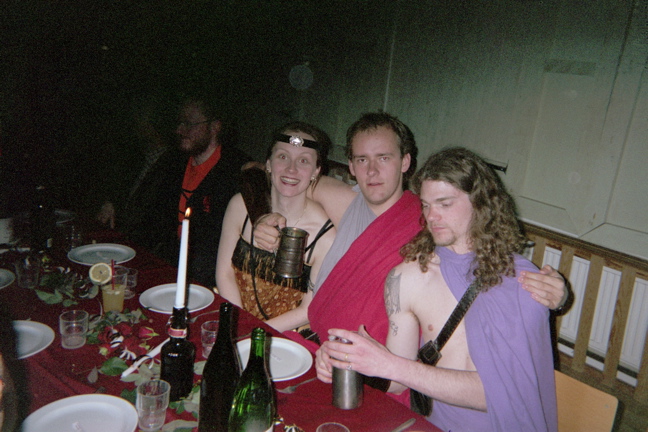 Danni, Morten, and Niki at the costume party. Danni is getting liquored up for his athletic event later (see below).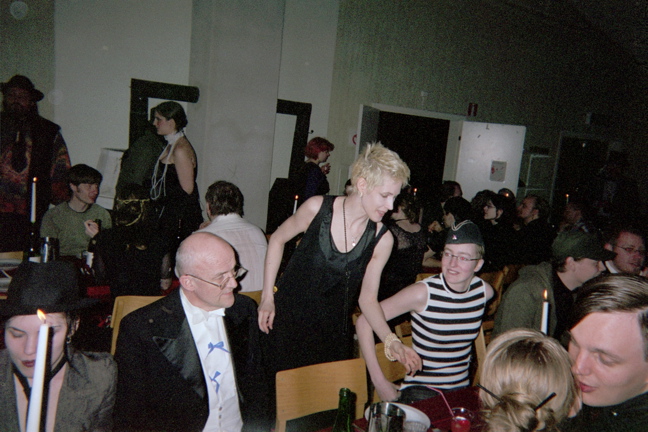 Elge, Janetta Nyberg, and someone at the dinner of the party. While there were holes in the organization, the food was quite good at KP06, and here they nicely had candles, roses, and wine (though the wine was terrible).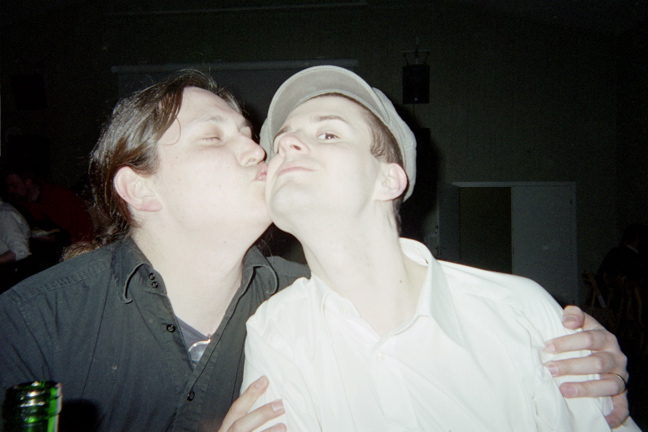 Me showing my love for David.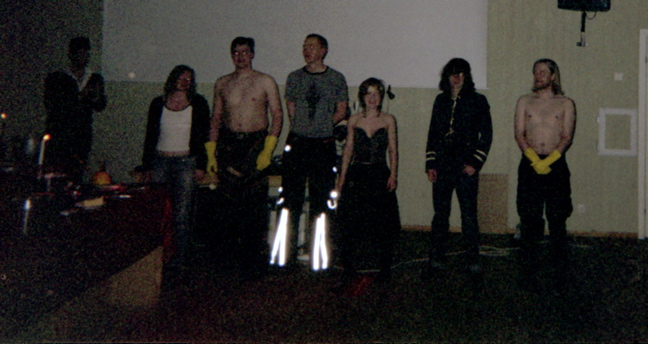 After dinner, recognition was given to the KP06 organizers, including the kitchen staff shown here.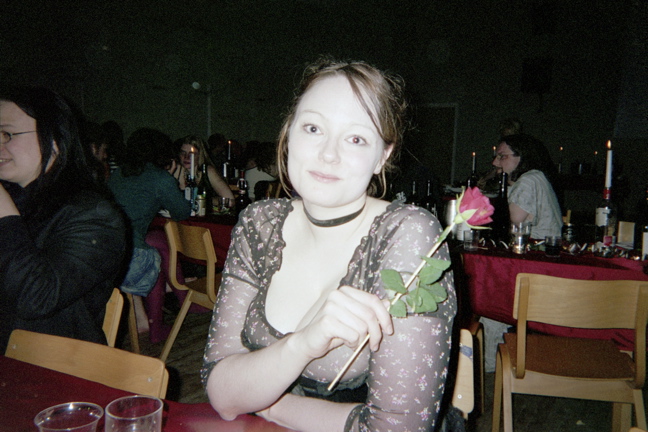 Satu poses at the dinner.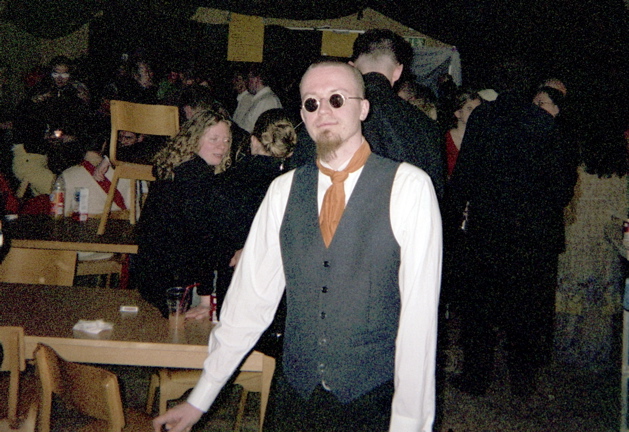 J. Tuomas Harviainen at the costume party after dinner. He just got approval for a PhD thesis related to RPGs, and I did a brief interview with him as part of his research on different approaches to role-playing.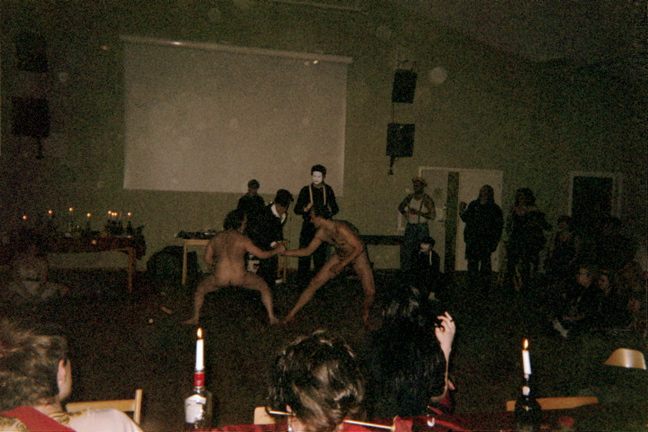 Danni attempts to take on the Finnish champion in naked wrestling in a contest of national pride. I was all set to be in on the naked soccer match, but apparently the dark and the cold were too much for most people, so they instead attempted to pull each other off their feet here. Finland won, by the way.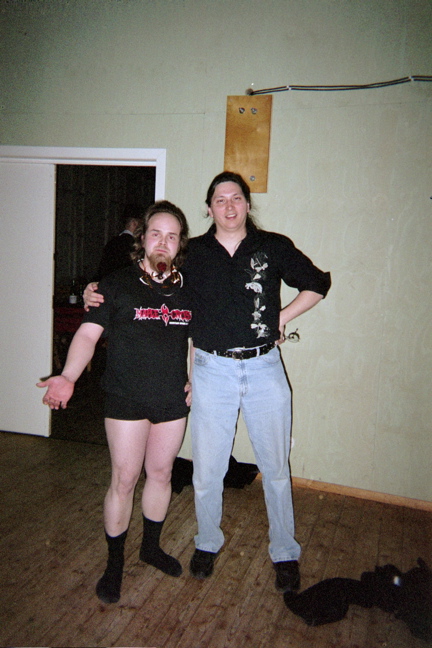 Me with the Finnish champion after he had put his underwear back on.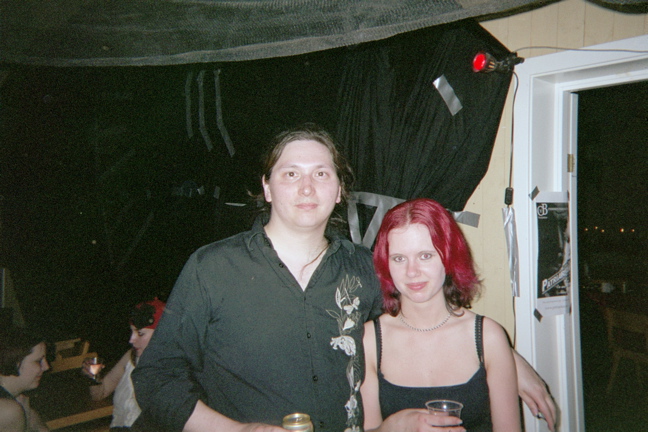 Me with Stina Almered after the party.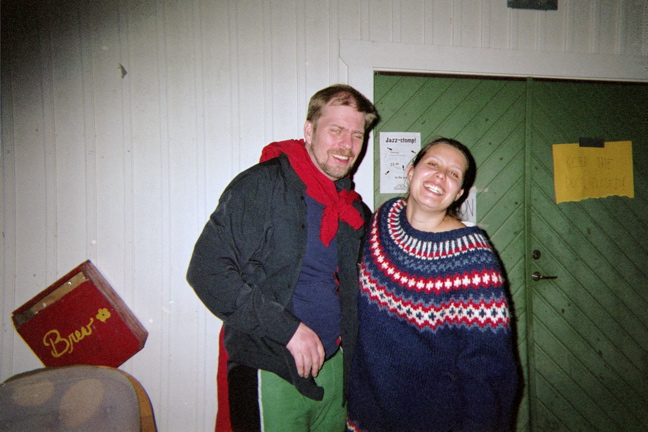 Angelique Kozmér and Eric, highly drunk after the party, showed me their bruises from the "Male Workshop" aka "The Art of Intimidation". This was serious hurt going on while pansies like me learned about body movement.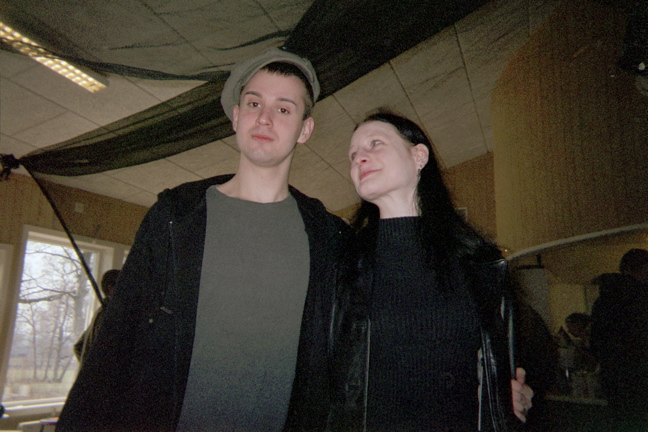 The morning after. David Olsson and Kristi as we packed to leave.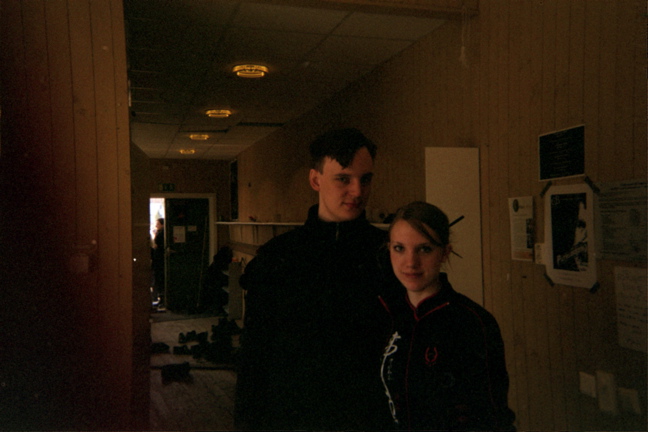 Pernilla Rosenberg and Staffan Jonsson.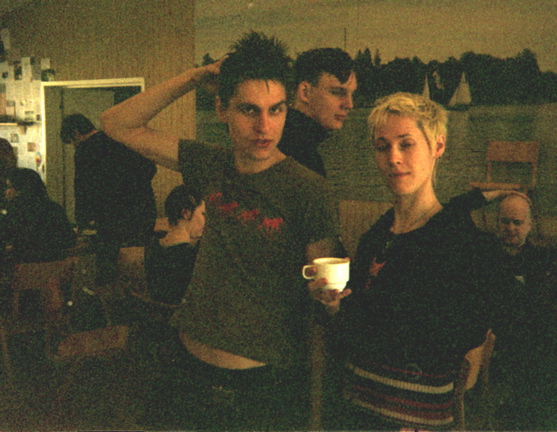 Love Ersare and Janetta Nyberg.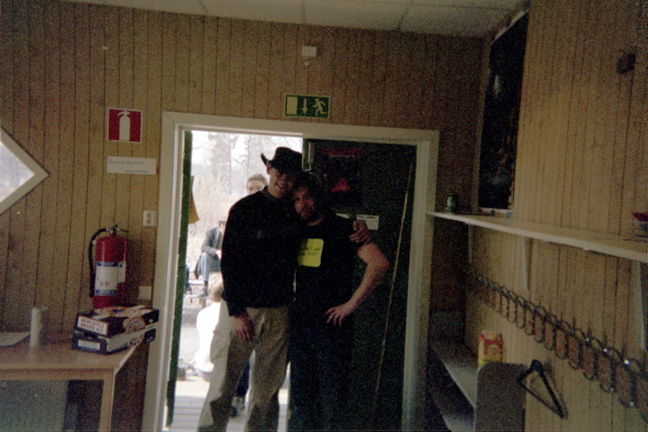 Danni and Claus.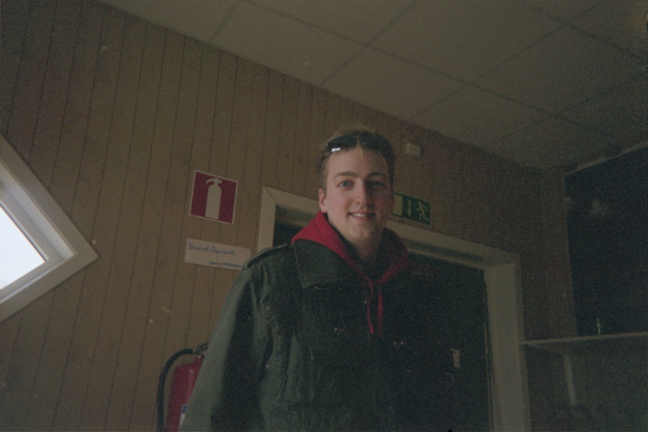 Ryan Hansen.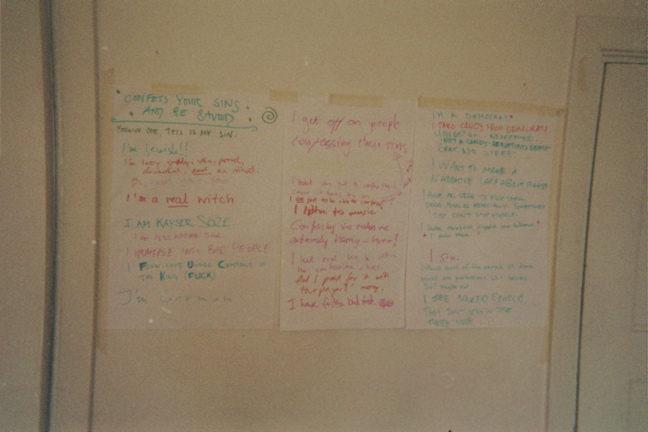 The sins confessed on the wall at our cabin, "The Church" prior to cleanup. My favorite was "I get off on people confessing their sins" and "I'm German".


The corresponding list of commandments composed by the Church's inhabitants.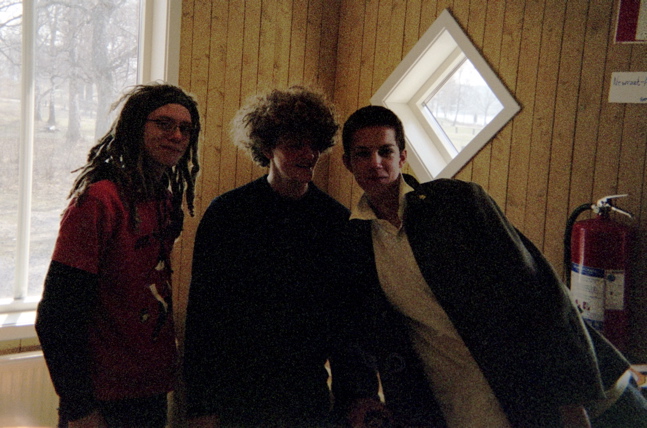 The youngest attendees of KP06: Axel Löfving, Simon Rose, and Puck.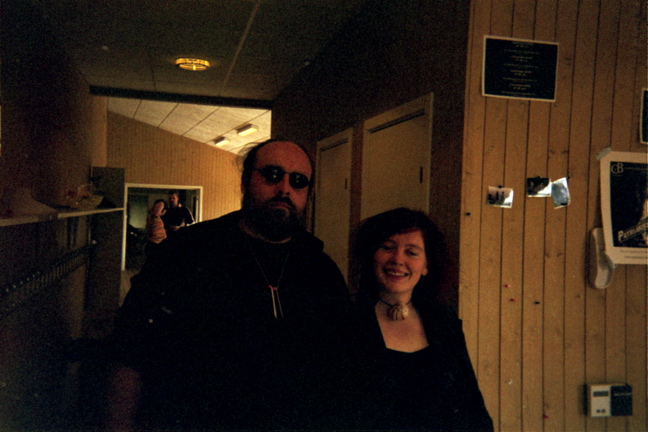 Boris and Sonja.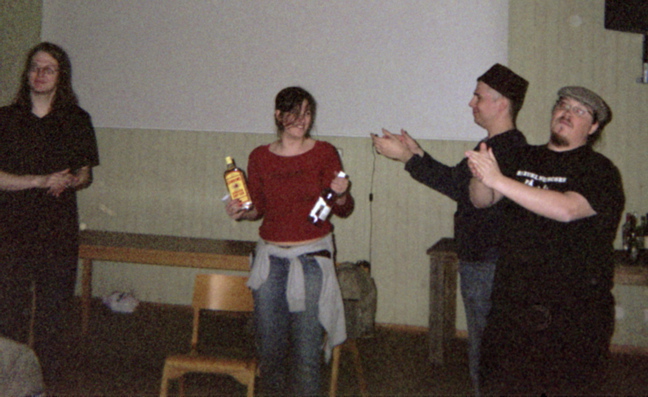 Anna Westerling as head organizer received both applause and alcohol at the closing ceremony.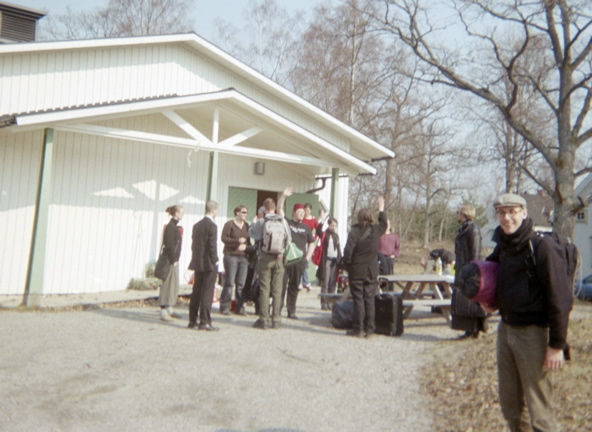 Olle in front of the crowd as they packed to go.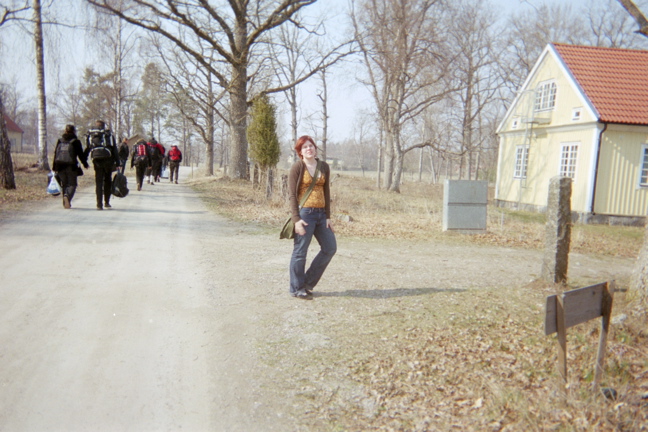 Finnish participant Anna Lotta Viertola hanging out by the cleaned-out Church as the rest of us hiked out to catch the bus.
---
John H. Kim <jhkim-at-darkshire-dot-net> Last modified: Wed May 10 08:16:03 2006